The painter is dressed in a soft coloured top with red trousers. One leg is on top of a small stool but seated next to his easel. Beside him, there is an angel with one hand raised and the other hand pointing to the ground. The angel appears floating in the air with the support of its wings. There is also a visible signature signed by Marc Chagall on the bottom-left part of the painting.
The Theme of this Painting
Throughout Marc Chagall's career, he developed a collection of Jewish themes and symbols by using bright solid colours presented in a modern art style. After mastering the Cubism and Fauvism techniques, Chagall used his folkish style to blend these stylistic tendencies. Marc Chagall's work was unique from works by other prominent painters, making him one of the leading 20th-century modern artists and possibly the most remarkable Jewish artist of his time. Chagall's work is steeped in his Jewish heritage and mostly includes excellent memories of his home in Vitebsk, Belarus and its folk culture. Also, his religious upbringing influenced him a lot to produce most of his works.
Medium Used
Marc Chagall used an etching, aquatint, gouache and pastel on a paper medium to paint "The vision". Etchings provided a highly influential in art history, specifically in printmaking. This type of medium is among the oldest printmaking mediums used during the 15th century to produce remarkable works of great artists.
What Inspired Marc Chagall into Painting?
Most of Marc Chagall's paintings, including "The Vision", were inspired by his dreams. The winged angel is among the many tremendous beings in his artworks. Through this artwork, Chagall realised that he could escape into his imagination. He confessed that painting was like a window through which he could fly away towards another world.
Chagall's outsider, artistic and eccentric role were naturally in him as he was an intermediary between worlds. Through his solid memories and imagination, he used typical motifs and subjects to paint The Vision and other pieces of his work.
Current Location
The Vision is currently in the Tate art gallery. Opened in 1897, the Tate art museum found on Millbank in the City of Westminster in London, England, is grouped among one of the largest and oldest museums in the network. The museum houses both British and modern collections done by great masters of art across the world.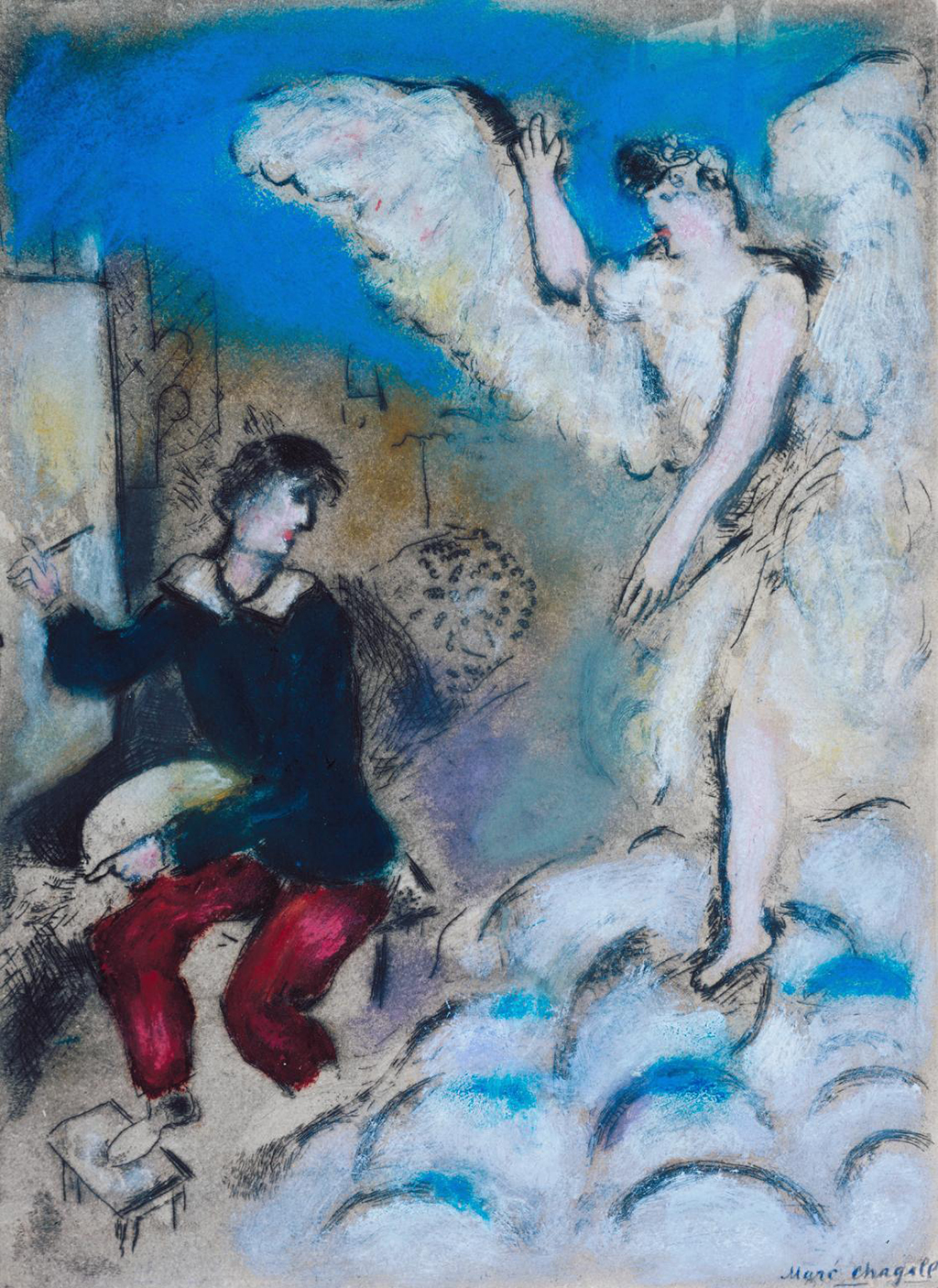 * As an Amazon Associate, and partner with Google Adsense and Ezoic, I earn from qualifying purchases.