The artist took on some old tales as inspiration for whole series of lithographs as he threw himself entirely into its techniques relatively late in his career. Colour was a key element to this body of work, with bright colours bringing a new dimension to stories that we are all already familiar with. His style has often been compared with a variety of different movements but Chagall was keen to retain his uniqueness and generally liked to reject any of these comparisons. In truth, we can compare elements of Fauvism, Symbolism, Surrealism and Cubism with his work, and he would make use of a bit of all of them. One can certainly say that many of his works are instantly recognisable as his, such was the unique approach that he took throughout his career, in whichever medium he was working at the time.
The use of lithographs has helped to spread this artist's work around the world, and for the first time smaller collectors are now able to acquire limited edition prints from his career. Any of his original paintings would, of course, be too expensive for most mere mortals and so this alternative helps to widen the artist's appeal. This has been the case for centuries, going back to the likes of William Hogarth and his popular duo of Beer Street and Gin Lane. Today we continue to find Chagall's prints for sale, with most being found in the US. His content included all sorts of different figures arranged across each composition, including maidens and mermaids in entirely charming finishes. He would then flood the scene with bands of colour to shock and excite in equal measure. The artist sensibly called on the assistance of a number of experienced artists who specialised in print making and lithography in order to transition into this medium smoothly and quickly.
Lithographer Charles Sorlier was the experienced artist who helped to encourage Chagall to use bright colours within this medium, and Chagall put a lot of trust in his views, knowing that he had worked with a number of high profile artists already. It was interesting to see a humble man in his sixties taking advice from a younger colleague, accepting that it was Sorlier who understood more about lithography at that stage. They would become friends over time and a large amount of knowledge was eventually understood by an enthusiastic Chagall who slowly learnt each of the stages involved. He was notoriously precise in his work and so would have been thinking along the way about better ways to do each stage himself, though worked diligently and respectfully for a period alongside Sorlier as he attempted to glean as much advice as possible.
Chagall would always take a medium as far as it could go, and in his lithographs he would use as many as 25 different tones. This made the production process highly time consuming but ultimately led to the best quality of work possible. He would place particular importance on the final stages, where hand tweaks were normally employed and it was there that Sorlier would be called upon to help out. It is fair to say that Chagall's work with lithographs was no passing fad - he would devote huge amounts of time to individual projects, with one taking several years as he put together a series of images which together tackled a classical story. It would be the 1960s in which he devoted the most time, releasing several different series which even today can be found for sale from some of the prints which were made at the time. The artist would even allow Sorlier to produce his own prints from some of these designs, such was the strong relationship that they built up over time, as well as the respect that they had for each other.
Sotheby's hosted a sale of Marc Chagall prints and lithographs and to promote the event they would produce several articles about his contributions within the medium. It would also provide an opportunity to get a better understanding of the true value of some of these limited edition artworks, with several sold together at the same time and after a thorough examination by a highly respected auction house. The name itself, Sotheby's, boasts knowledge and authenticity, meaning buyers could buy with relative confidence, which should have consequently increased the valuations of each artwork that came up for sale. They have within their company several different branches which employ a multitude of experts who can not only provide assurances about the source of each piece, but also provide us with more information about each one.
Famous Marc Chagall Lithographs
It is hard to really define as to which of the artist's work were the most famous, but our paintings section orders them roughly in that order. You will find the likes of I and the Village, La Mariee and Birthday at the top, and these are amongst the most recognisable of his paintings. A number of his designs would be turned into lithographic prints and we have included three of them below. Chagall also produced so many different items across his career that it is hard to really categorise them in terms of quality or popularity, and so most simply differentiate by the particular medium used. The more appreciated artworks will normally be out on permanent display within major art galleries, whereas the less famous might be in smaller private collections or kept away and only brought out to the public every now and again.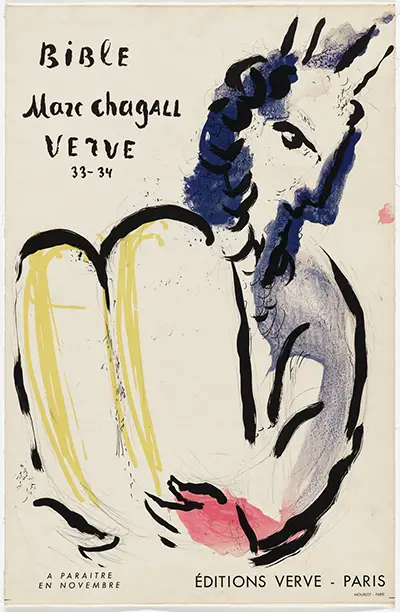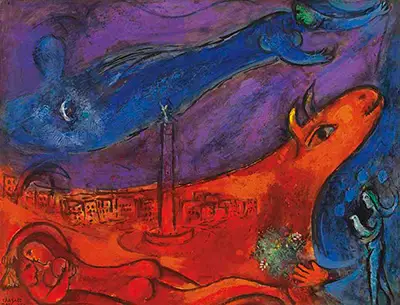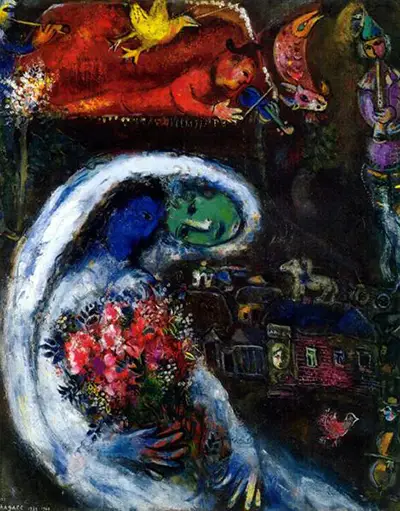 Buy Marc Chagall Lithographs
There are a number of galleries which have artworks for sale which are advertised as being lithographs directly from this artist's career. Many of these are, of course, entirely genuine but it is important to do your due deligence when buying art. Some of these galleries sell online and it can be hard to decide which ones can be trusted and which cannot. For those looking to spend large amounts of money, it might be worth visiting these galleries in person and seeing each artwork with your own eyes. There may also be reviews from past cumstomers that might give you more of an idea about each company's authenticity. We do know that many thousands of legitimate lithographic prints have been made from Chagall's original designs but there has not been a single record that ties them all together. For those unsure, simple prints can be a good alternative means of enjoying his work within your home but without laying out too much money.